GSG 07-22 Ukraine
23/March/2022
Description
The Union has been following with growing concern the horrific events that have unfolded in Ukraine and in the proud anti-war tradition of the Irish and international labour movement, we affirm our solidarity with the people of Ukraine and condemn this breach of national sovereignty and peaceful existence. The government of the Russian Federation must commit to an immediate ceasefire and allow for the safe evacuation of people who wish to leave, and also for the safe delivery of humanitarian aid to those in need. There must be a concerted effort at every level to agree a resolution through dialogue to avoid an escalation of the conflict, leading to any further loss of life.
We commend the resolve of the Ukrainian people as they defend their country and those who have risked everything to find sanctuary in neighbouring countries and further abroad. We also commend those workers in the Russian Federation who have put themselves at great risk by protesting against the invasion, despite extreme repression by their government.
We are acutely aware the sanctions imposed on the Russian state are having an impact on the lives of working people around the world, as the price of oil, food and other essentials continues to increase. However, we are sure that our members will agree that this increased economic pressure is necessary to hopefully bring about a swift end to this war.
The Union recognises our members are keen to provide appropriate support to the Ukrainian people. In response, the National Executive Council agreed to donate €50,000 to the International Committee of the Red Cross, from the CWU Humanitarian Aid and Charitable Funds.
UNI Global Union has one affiliate in Ukraine – the Cultural Workers' Union – which is in the Media, Entertainment and Arts Sector (UNI MEI) and a message of solidarity has issued.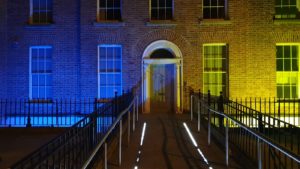 We are fully supportive of the initiatives of An Post, Vodafone and eir, to provide assistance to refugees. We have also shown our act of solidarity with the citizens of Ukraine by lighting up Headquarters in the colours of their flag.
We are, without a doubt, facing the most serious humanitarian crisis originating within Europe since the Second World War and one that we all hoped Europe would never again witness. The number of Ukrainian refugees has reached almost three million and in Ireland, we anticipate the arrival of up to 100,000 refugees. As people of conscience, we recognise that there are men, women and children fleeing conflicts throughout the world and we call on all states to treat these refugees equally and for diplomatic solutions to be found to all conflicts.
On a final note, we ask our members to join us in demanding a return to peace in Ukraine and for the Russian military to withdraw immediately. We also wish to express our condolences to the families of all those who have lost their lives in this senseless war.
Members and/or Branches can, if they wish to do so, donate to the Irish Red Cross Ukraine Appeal here: https://donate.redcross.ie/
Publication Type: Circular